Our products
We supply a large range of lift components including position indicator screens, communication devices, emergency telephones and GSM technology, lift door detectors, push buttons and more to lift and installation companies throughout New Zealand. Based in Christchurch, we hold stock of our products and have a full service and support team available by phone, email or in person. Our onsite designers can create imagery for our screens to suit your customers' needs. If you would like to find out more about the product options we provide, please contact us and we'd be delighted to have a chat.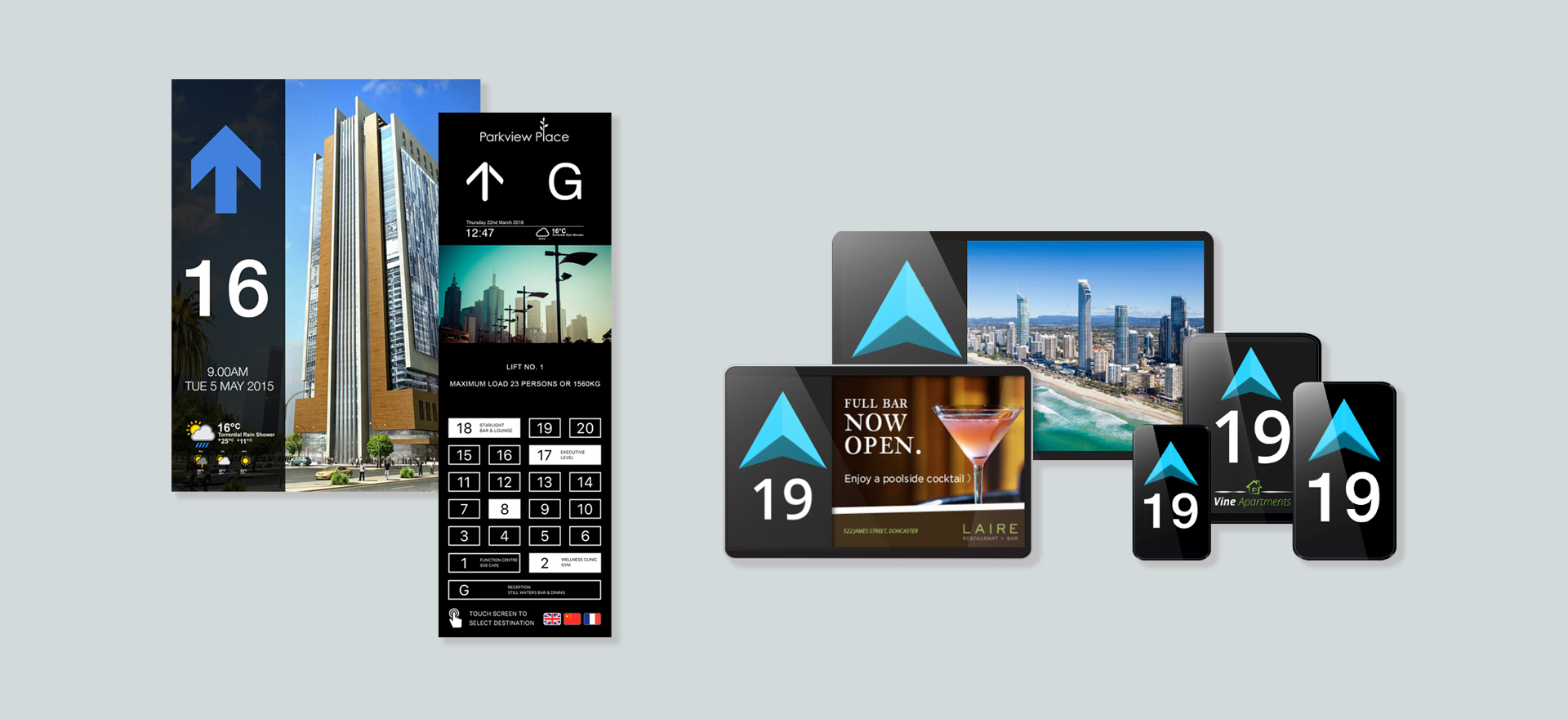 LIFT DISPLAY SOLUTIONS
From 2.7 inch to 21.5 inch full colour displays (and everything in between) we have lift cars and landings covered.
Our lift displays are great for small projects through to large networked buildings with options to include dynamic media, imagery, tenant information and messages.
Our displays are Australian made and come with full New Zealand based and manufacturer technical support.
Contact us to find out about our range of lift display options for your building.
Options
Position indication

Scrolling or rotating arrows

Tenant information

Emergency messages

Specialised graphics

Networking
DOOR DETECTORS
Door detectors, light curtains, door beams, light rays - whatever you call them, we stock a range of units in varying widths and heights.
We hold stock of all of our range in Christchurch. Contact us for detailed information.
options
1.865m - 2m heights available

9mm - 30mm wide options available

2D and 3D

Flashing light units
emergency telephones
The reliability and ease of use of the emPHONE makes our range of auto dialling emergency telephones and intercom communication systems the product of choice in the lift industry in New Zealand. We also provide both single and dual sim card GSM units which integrate with an emPHONE.
Manufactured in Australia, proving high quality and reliability.
Ask us about our telephone plates complete with emPHONE and telephone push button.
options
GSM units with long battery back up

Line and external powered units

Fully monitored systems

Internal or external speakers
braille plates
The perfect solution for landings and next older buttons to ensure your lift is compliant. We have a range of sizes and hold a large stock of numerals, letters and symbols.
OPTIONS
Hairline stainless steel

Sizes from 25mm - 100mm
custom fixtures
Custom made or standard landing fixtures including pushbuttons, position indicators and lanterns. We provide options for both flush and surface mount fixtures and can manufactured to suit specific requirements.
Made in New Zealand to suit local needs.
options
Landing fixtures

COP's

Telephone plates

Surface and flush mount options
key switches
Elevator key switches available with different key positions, a range of TOK key numbers, standard and custom rims in silver, red and black.
Made in Australia for a high quality range of key switches.
options
Key out 2 positions or Spring return

T3, 5, 7, 9, 37 available

Large range of small studless rims

Custom rims available
Emergency Lighting
Surge protected lighting back up with RCBE to protect life and to protect overload on a circuit. Easy to install in existing or new lifts with different mounting positions.
Australian made, with a full manufactures warranty.
options
Battery back up for a minimum of two hours

12V output for emergency phone

Horizontal or vertical mounting
Audio devices
Two-tone gongs with the ability to alter volume during specific hours and voice annunciation units available with standard or custom recorded audio files to suit your clients' building.
Our audio devices are made in Australia.
options
Digital volume control

In built encoder card

64 Levels/ 16 messages